Thank you for showing an interest in Orca Business Consulting! We are located in Colorado, but provide business consulting services to businesses and non-profits all over the US. We are happy to answer any questions you may have about our services and hope to hear from you soon!
Our consultants offer their expertise in the following categories:
Our consultants, who have experience as C-suite leaders in their respective fields of expertise, are here to help your business thrive!
Rachel LaFollette, our founder and CEO, founded Orca Business Consulting as a way to come alongside small and medium businesses, as well as non-profits, and contribute to their success. We're passionate about helping these businesses because we know they are critical to the health and well-being of our communities.
Our pricing varies a bit, depending on who you're working with and what you need. Our goal, no matter what you come to us for, is to provide such significant value that this will be one of the most impactful investments you make in your business. We want to help you fill the gaps in expertise on your team without adding headcount.
We are proud to offer discounts to the following types of businesses:
Non-profits (501c3)
Veteran-owned
First Responder-owned
The World's Top Apex Predator
Wondering why we named Orca Business Consulting after Orcas?
Orcas are the ultimate apex predator. Even Great White Sharks, who are often thought of as the tip of the food chain, are prey to some Orcas (there's a reason they were given the nickname "killer whales" and not "sea pandas"). What makes Orcas so successful? They are the most strategic, effective and adaptable hunters on earth. The key to these highly intelligent creatures' success is the way pod members learn from one another and work together as a unit. Experienced orcas pass highly developed hunting and survival techniques down to new members of their pod.
The most successful businesses operate in the same way. They are strategic and adaptable. They utilize the resources at their disposal and learn from industry experts.
Small and medium businesses have a high degree of expertise in their specific product, service or technology. However, many do not have an in-house branding specialist or CFO or customer retention specialist. They most likely don't have someone on staff who can look at Google Analytics and troubleshoot a poor conversion rate on their website. There isn't usually someone on the payroll who can provide expert de-escalation coaching.
That's where Orca Business Consulting can come alongside your team and provide personalized solutions to help you reach your goals. It's our mission to provide one of the most valuable resources you invest in as a business person, adding much-needed expertise to your "pod".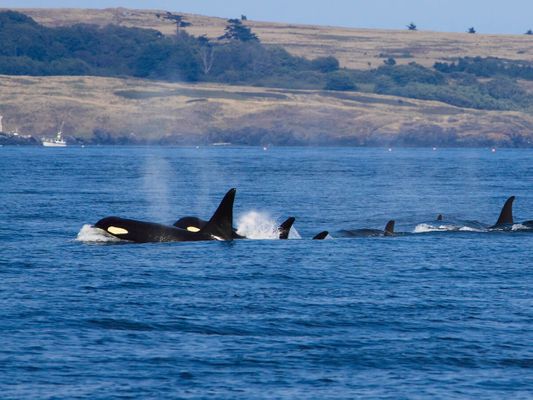 The Ultimate Team Player
We love the social culture that Orcas have, not only learning from one another but also caring for one another and sacrificing for one another. It's common practice within an Orca family group, or pod, for members to share food with one another. Even when food is scarce they will sacrifice for members of their pod, which is very rare in the wild.
The most effective teams operate in the same way, sharing knowledge and helping each other succeed.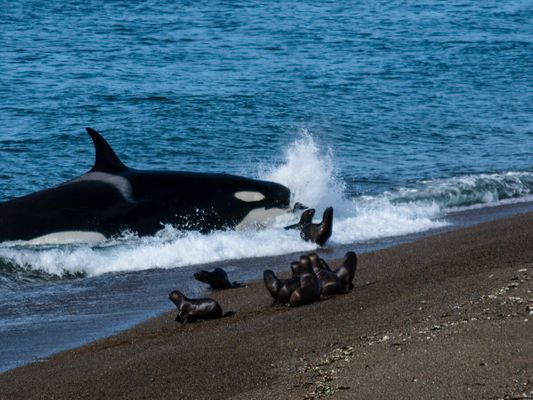 Strategic Hunters
Orcas can be found in almost every ocean on the planet. The reason they're found in so many places is because different species have been able to adapt to different types of prey. They are incredibly intelligent and strategic hunters, passing complex hunting techniques down from generation to generation.
Likewise, businesses that employ intentional and strategic sales, marketing and retention techniques are likely to succeed.
Help Save the Whales
As you've probably figured out by now, we love Orcas for so many reasons. They were part of the inspiration behind our brand. More than that, though, they are simply an amazing part of the wonderful world we live in.
We realize "Save the Whales" sounds very 1980's of us (maybe we're showing our age), but the reality of the situation is that despite being the world's top apex predator, many Orca species are in serious trouble. Some are endangered and even critically endangered. Click the link below for a few ideas on how you can help Orcas thrive for generations.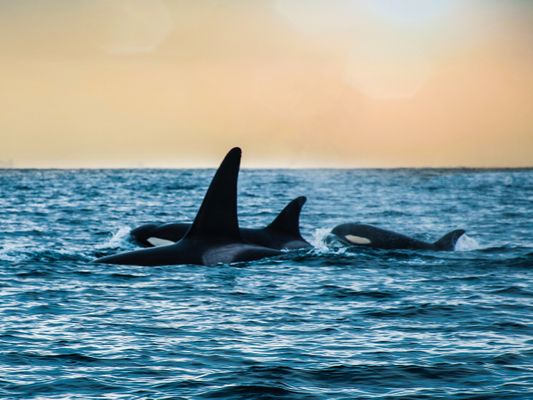 Other "Orca Business Consulting" taglines we considered:
For when you need killer business advice.
Helping small businesses kill it since 2012.
Experts for when you whaley need business advice.
Orca-strating business growth since 2012.
Helping small businesses make big waves since 2012.
Make a splash with Orca Business Consulting by your side.
Just as smart as the marketing genius who called Orcas "Killer Whales" instead of "Sea Pandas".
Helping small businesses achieve Apex Predator status.
We hope at least a couple of these made you chuckle.
This section is dedicated to Rachel's late grandfather, Poppy, who had an insanely clever and witty brain. He was always quick to the punch with his puns, bringing a smile to everyone's face. We know these don't compare to what Poppy would have had to offer, but it was worth a shot anyway, in his honor.
Got others we should add to the list? We'd love to hear them!

I cannot recommend Rachel enough.
A couple of years ago, our 130 year old, 6th generation family business decided we needed to update our logo and rebrand ourselves for a newer generation. Little did we know what a challenge that would become. Trying to maintain the history of our heritage, which has brought us this far, yet allow us to look current and far less antiquated.
Our team took to the task for several months thinking how hard could this be. After numerous iterations, countless hours, and great frustration, we learned of the talent and knowledge of Rachel LaFollette.
Rachel entered our situation with a calm grace. With her knowledge, experience and especially her patience, she intently listened to our desires, understood our objectives, and got to work with the designs we had been working on, as we were convinced, we were on a good path, we just needed some professional clean-up. Working with a multi-generational family business, with strong opinions, I'm sure gave Rachel cause to wonder why she ever agreed to help; however, she never lost her patience, poise or professionalism. Ultimately Rachel convinced us to trust her and her team to come up with their own ideas, scraping ours, and to trust her process. That was the best decision we could ever make.
Within a very short period, Rachel presented us with the perfect fit. Her encouragement to get out of our own way, stop over analyzing, trust her experience and look to a simpler elegance, produced for us everything we could have hoped for.
I cannot recommend Rachel LaFollette enough. Her skill, knowledge, experience and her patience, make her head and shoulders above anyone I've ever seen. Thank you Rachel.
- Phil W, 5th Generation, Owner

Rachel taught me more about leadership, professionalism, and de-escalation than any other one person has to date.
I had the pleasure of working with Rachel for over 7 years. Although she was a C title the entire time and I encompassed several roles, in every single position she was like an unofficial role model and mentor to me. Rachel is so approachable, she can make anyone feel right at home and comfortable, which is very valuable for quickly addressing tough situations.
Despite coming into the organization with years of leadership experience from the military, I have no doubt in my mind that Rachel taught me more about leadership, professionalism, and de-escalation than any other one person has to date. It seemed that whatever I came to Rachel with, big or small, she could give me direction in handling it with truly one of a kind perspective.
One of the things I loved the most was that she didn't just give me an answer or direction, but gave me a deeper understanding of the 'why' so I could grow with all of her coaching as well. These lessons are ones that I have worked on passing down to those below me and I have no doubt will continue to benefit the organization for years to come.
- Dustin B, Lead Marketing Success Manager

I left her speaking engagement inspired to take action
I had the opportunity to hear Rachel speak at Colorado State University. She spoke about why it's crucial for businesses to cultivate a customer-centric culture, as well as practical tips on how to activate and measure success. She led with examples throughout her vast experience in this area and thoughtfully answered questions from the audience. I left her speaking engagement inspired to take action within my own life, both professionally and personally. I'm eager to learn more from Rachel and would highly recommend her to help businesses focus on their greatest assets — their customers.
- Courtney M, MBA candidate at CSU

If your team is looking for the secret weapon to success, you've found it here!
Working with Rachel is one of the best things that I've done for my professional career. Her knowledge and techniques are something I utilize in various ways in my day to day life - both professionally and personally. After working with her, I've learned how to confidently navigate conversations, better negotiate, and better serve my customers.
If your team is looking for the secret weapon to success, you've found it here!
-Sammy T, Content & Social Media Specialist